Look, we have nothing against s'mores.
We just noticed their complete and utterly offensive inability to give anyone a buzz.
And we demand change.
Enter "You're Killing Me Smalls", a cocktail that has already had us with its sandlot-reference name, but really won us over when we learned it was like a s'more in liquid form. And now we are going to show you how to make one.
It's a cocktail made with Metallica's whiskey, Blackened, accompanied by amaro and very peated scotch. There's also Toasted Marshmallow Absinthe Syrup and its ability to transform your camping trips or backyard barbecues for the greater good of mankind. It's from Lilly Rose in Los Angeles, a gorgeous basement bar that looks like a legendary entertainer's tea room, located beneath the Wayfarer DTLA hotel.
Lilly Rose bar manager Abigail Nuñez told UrbanDaddy:
"This cocktail tastes like a summer bonfire in your mouth and is a great change from the usual summer drinks of vodka, rum and tequila. If you love avant-garde cocktails, you would like this drink to change from your usual Manhattan. The garnish brings this drink to life. We burn a marshmallow and place it on a graham cracker to bring you the bonfire.
We can barely wait for it to touch our lips. First, let's learn how to make it.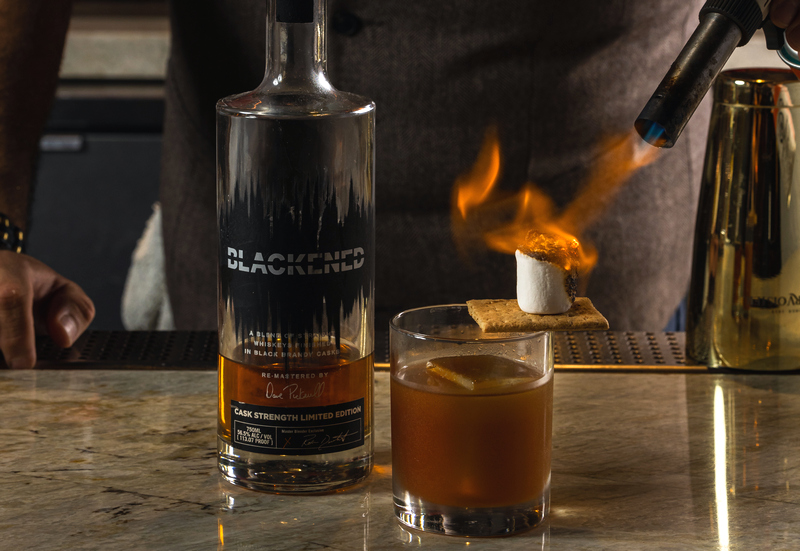 You kill me little ones:
1.75 oz blackened American whiskey
0.75 oz Avernus
0.25 oz Laphroaig whiskey
0.5 oz marshmallow absinthe syrup**
4 dashes of chocolate bitters
Combine all ingredients in a cocktail glass over ice. Stir until cool and strain into a rocks glass over a large ice cube. Top the cocktail with a square of graham crackers and a marshmallow, spray with absinthe and torch the marshmallow with a blowtorch until charred.

**Recipe for absinthe syrup with marshmallow
Heat the sugar and water on the stove until the sugar is combined. Add toasted marshmallows and stir to combine. Add the salt and vanilla extract and remove from the heat. Once cooled, add a bar spoon of absinthe, stir and allow to cool completely before use.