Midtown has become much more tolerable thanks to whiskey, and in abundance. Welcome to American Whiskey with the utterly muddled name, a drinking temple that is part of a rustic truck stop, a sports bar, a bachelor's cellar and, of course, a top-notch whiskey bar. So yes, there are definitely buffalo heads on the wall.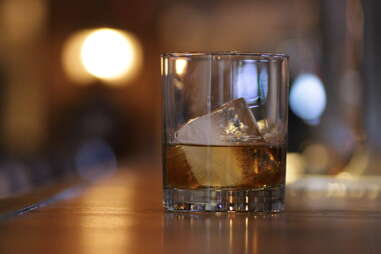 When you stop being distracted by televisions everywhere, a party room upstairs, a private meeting room called "The Barrel" in the basement, you should look into their personal whiskey racks in the back, which you can load with more than 200 bottles of Le Brun. They focus squarely on bourbon, and a few they're passionate about are Larceny and Old Weller Antique Bourbon, as well as Balcones Corn Whiskey from Texas.
With 12 quirky cocktails, around 20 bourbon and rye classics, and 6,500 square feet of space, this is actually one of the largest "cocktail bars" in the country. Here is Giggle Water with a brilliant name, made up of Buffalo Trace, Licor 43, root beer and orange bitter.
Two cocktails will be in the works, including the award-winning Remember the Maine, which is filled with Larceny, absinthe, Cherry Heering and sweet vermouth. Remember!!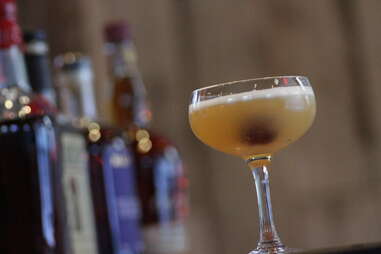 This is their Whiskey Sour, which ages a bit in cask, but that's not even the best part: they serve on cask. Yes, instead of bottle service you can order a 1L, 3L or 20L barrel just for you and your party. Or just yourself. Don't do that, however.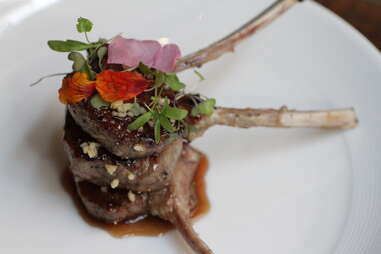 As you can see from the flowers placed softly on these lamb chop lollipops, the food here is no joke either.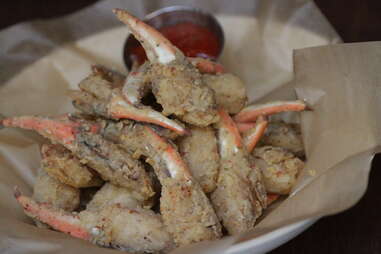 Score yourself a basket of gently fried crab claws and never feel the need to order popcorn shrimp again.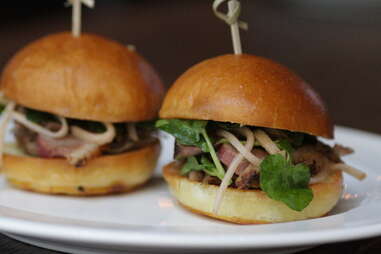 Their slider game is tight – get the Duck, Duck, Goose, which is a duck breast, topped with duck confit, topped with foie gras butter.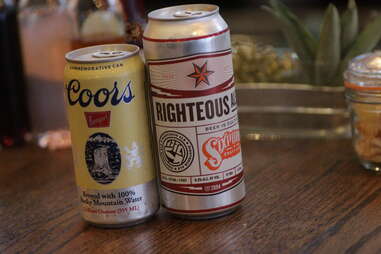 The list of beers is half artisanal / half standard. It's up to you to decide which category the banquet beer falls into.