Kansas City-made bourbon is back with the release of Rieger's Bottled in Bond Straight Bourbon Whiskey from J. Rieger & Co.
"As America's quintessential spirits, distilling our own bourbon was one of our goals even before the distillery officially reopened," says Ryan Maybee, co-founder of J. Rieger & Co. bourbon that we've been making since before prohibition, and we knew it had to be something special, something that would honor tradition and live up to being "Oh! So good.' We let this bourbon age in our Kansas City rickhouse for six years before bottling, and it's finally ready.
When J. Rieger & Co. started out as a reopened distillery in 2015, they started stocking a few American oak bourbon barrels a month. Today, the Kansas City distillery stocks around 100 barrels a month and plans to distill Rieger's Bourbon for generations to come.
The new bourbon will be available in retail stores in Missouri and Kansas starting June 2. It is 100 proof and meets the criteria to be designated as bottled in bond.
Tasting notes of the new bourbon feature aromas of tart fruit, lemon oil, apple pie, clove and hints of maple that deliver a rich, elegant and buttery texture with smoky flavors of cigar, cornbread and cotton candy. The finish has more complex flavors of honey-cinnamon, dark roast coffee, vanilla, caramel and sea salt, with a lingering effect reminiscent of a stout beer with a rich, malty profile.
Looking for the perfect way to enjoy the new local spirit? Try J. Rieger & Co.'s recipe for a Whiskey Smash.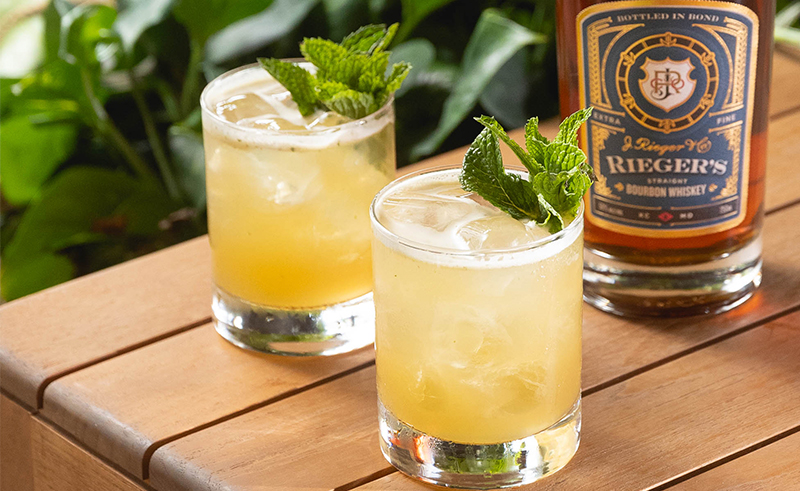 Whiskey Smash from Rieger & Co.
Ingredients
1½ oz. Rieger Bottled Bourbon

¾ oz. simple syrup (1:1 sugar to water)

½ lemon, quartered

4-5 mint leaves
Glassware: a highball glass or tumbler
Preparation method
In a shaker without ice cubes, mash the lemon half into quarters with the simple syrup and the mint leaves. Add Rieger's Bonded Bourbon and ice followed by a vigorous shake for about 6-8 seconds. Double strain with a Hawthorne strainer and a tea strainer, pour the cocktail into a highball glass with new ice and garnish with a sprig of mint.